Our mission is protecting the environment, recycling the past, and preserving the future.
Warren Rosenfeld is the third generation in the family to lead the scrap metal recycling company co-founded by his great-grandfather in 1907.
A West Coast leader in recycling metal, Calbag has over 5,000 customers from whom we purchase scrap and hundreds of Pacific Rim customers who buy the metal.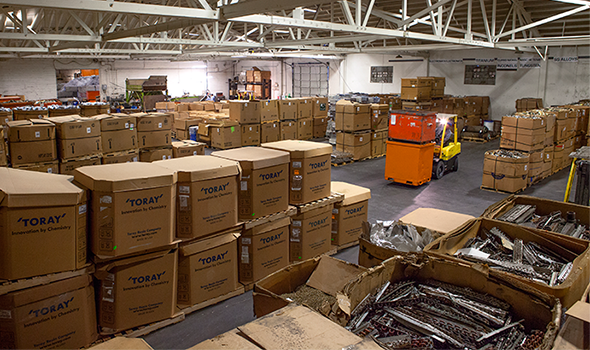 CALBAG WAS ESTABLISHED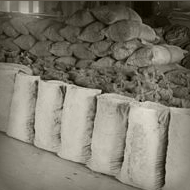 Calbag Metals Company has a 100 year history in recycling metal. Founded in Portland Oregon in 1907 as Northwest Junk, we started recycling and reselling used burlap sacks near the beginning of the 20th century. Food and fruit from Hood River and further out transported in burlap sacks and material to Portland and repaired sacks and shipped back to farmers. We were "green" before "green" existed.
BECAME CALIFORNIA BAG & METAL COMPANY
The company name was changed to California Bag & Metal Company and operated as a partnership until first incorporated in 1929 as an Oregon corporation. The phrase California Bag entered the name of the company to reflect the non-metal work the company did.

BECAME CALBAG STEEL WAREHOUSE COMPANY
To better reflect its business the company name and incorporation was changed to Calbag Steel Warehouse Company, an Oregon corporation.
BECAME CALBAG METALS COMPANY
The company changes its focus to recycling non-ferrous materials.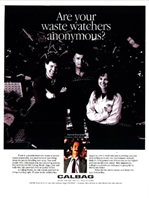 THE GREAT EXPANSION TO THE NORTH
Opening of Tacoma, Washington facility for recycling steel and non-ferrous metal.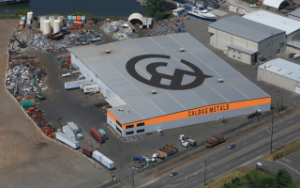 CALBAG RESOURCES LAUNCHED
Calbag Resources, Capital asset recovery group formed.
STEEL FACILITY IN TACOMA OPENED
Calbag establishes Calbag Steel in Tacoma, WA.
CALBAG TODAY
---
AGGRESSIVELY PURSUING ENVIRONMENTAL STEWARDSHIP
---
1.
BEST ENVIRONMENTAL PRACTICE IN BUSINESS
We have over 100 years experience recycling materials to reduce the extraction and refining of mined ores. We handle all materials following strict environmental regulations.
Our Tacoma, WA and Portland, OR locations are ISO 14001:2015 Registered. All material handling policies and procedures are annually reviewed with 100% employee participation. Independent auditors interview personnel to assure mastery towards annual re-certification.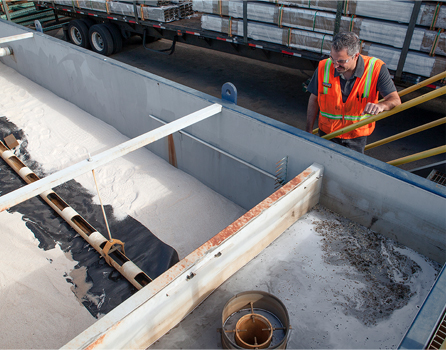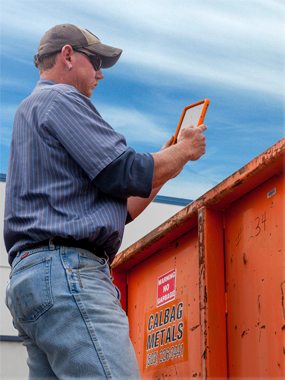 2. WE KNOW THE FUTURE OF RECYCLING IS THROUGH INNOVATION
We constantly look at what's safer, better, faster, and more efficient. That's how we stay ahead of the curve: evolving our business while offering customers better pricing and more options for their recyclables.
First in our industry to export non-ferrous metals
First in our industry to export, utilizing shipping containers
First recycling facility to take photos of all materials purchased, which is now the industry standard in reducing metal theft
First multi-facility metal recycling recipient of ISO 14001:2015 Registration
While these are commonplace to us and we have been doing them for years, many recycling facilities STILL don't do these things.
3. A TRUSTWORTHY RECYCLER
We understand metal! Your materials will be graded and handled correctly, from the time we pick (or you bring them to us) to the time we ship them to their final destination. We'll take the time to show you how to sort, grade, and identify the type of metals you have to make sure you know exactly what we're doing every step of the metal recycling way. If you have any questions, just ask any of our staff and we will be eager to help.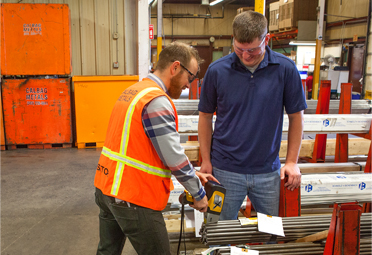 4. RECYCLING SOLUTIONS FOR EVERYONE
No amount of metal is too big or too small. All of our recycling facilities are designed to accommodate EVERY recycler; from the do-it-yourselfer cleaning out a garage, contractors cleaning out scrap from a job site, local scrap dealers, large scrap dealers, to multi-million dollar manufacturing companies, tech firms, and large-scale demolition projects. While our processes are different for each, we guarantee an easy and seamless recycling experience whether it's a one-time shot or an on-going endeavor.
CALBAG METALS AND BEYOND
---
OUR ENVIRONMENTAL CERTIFICATIONS & GUIDELINES
---
ENVIRONMENTAL MANAGEMENT

Certification providing assurance that environmental impact is being measured, monitored and constantly improved. Our certification means less work for your company in adhering to guidelines and regulations.
> Calbag Metals Certificate

QUALITY MANAGEMENT

Calbag Metals is committed to monitoring, measuring, and constantly improving the quality of all our chopped products in accordance with ISO 9001 guidelines.

MATERIALS ACCEPTED

We adhere to an international policy of materials acceptance. To find out what we accept, please call: Tacoma (253) 572-6800 or Portland (503) 226-3441.
Visit Our Training Center
See how we train to be kind to the planet.
Calbag Resources

A division of Calbag Metals that specializes in the demolition of power plants, dams, factories and industrial structures large and small.
Call (406) 360-0751.

TCI OF ALABAMA

TCI recycles and decommissions all types of electrical equipment including distribution and power - substation transformers.
> Visit website

TRANSFORMER TECHNOLOGIES

Transformer Technology specializes in the dismantling, removal, cleanup of energy and utility specific sites.
> Visit website