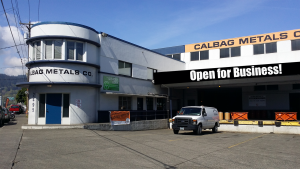 CALBAG METALS PORTLAND
Open to accept recycled metal from the public beginning Monday May 4th. Hours of operation will be Monday thru Friday 6:00 am to 2:30 pm.
Our TACOMA, WA facility is now able to buy metal from the general public again.
Calbag Metals in Tacoma, WA is open weekdays 8:00am-4:15pm.
As you know, we temporarily paused purchasing from the general public in March.  We believed that conditions created by the coronavirus required us to use an abundance of caution until direction was provided by our Governor and the best medical minds.  We did not want to put either our employees' health or you, our customer, at risk.
With safety in mind, the Calbag team has put together an operational plan for a process that begins the moment you arrive in your vehicle to the time you depart.
All visitors required to wear a mask
We will first and foremost continue to exercise the essential components of social distancing, and require all visitors wear a mask. Personal Protection Equipment requirements are in place for visitors and employees. Using signage and verbal direction, we have implemented a system for vehicle parking, safe unloading, metal segregation, payment and the use of restrooms.
While we believe we are being prudent with our approach, absolutely anything that you see or wonder about should be shared immediately with a supervisor. We have to get this right, and that includes everyone having confidence we are being thorough. We have kept our people and facility safe during this COVID-19 Pandemic by our own good luck and by not taking shortcuts, and that must remain the mandate.
Thanks, and stay well, and thank you for recycling with Calbag Metals.
Sincerely,
Warren Rosenfeld