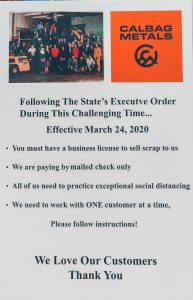 Our Loyal Customers,
Calbag has been deemed "essential" given our role in recycling and the general management of the waste stream. Following the state's executive order, we have made a few changes in our Portland headquarters.
1) You must have a business license to sell to us.
2) We are paying by mailed check only,
3) All of us need to practice exceptional social distancing.
4) We need to work with one customer at a time.
Thank you