Ah, summer. The season of popsicles, pool parties, backyard BBQs, and for many, moving! Approximately half of all home sales occur during the summer months. With a red-hot housing market, buyers and sellers are doing everything they can to get the most out of their homes. If you are one of those that are moving into a new home this summer, chances are your summer months will consist of a long 'to-do' list of housing projects to either increase the value of the home you're selling or increase the value of the home you bought. In both cases, if you haven't looked at window replacement, you need to.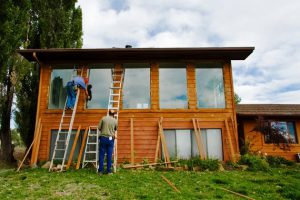 Replacing old, metal-framed windows is one of the best ways to increase your homes's value. Studies show replacing your old windows with vinyl has an almost 73% ROI while wood replacement windows yield a 78% ROI. While window replacement costs can be high ($8,000 to $15,000 or more for a typical home), they increase curb appeal and the energy efficiency of the home, leading to more value.
In general, you'll save $126 to $465 a year if single-pane windows in a 2,000-square-foot house are replaced with
tax-credit-eligible windows, according to the Efficient Windows Collaborative, a coalition of government agencies,
research organizations, and manufacturers that promotes efficient window technology."
If you do choose to install new energy efficient windows, you can save even more money by recycling those old, metal-framed windows with Calbag Metals. We accept and recycle all metal-framed windows. So, in addition to adding value to your home and making it more energy efficient, you'll also feel good knowing you recycled your old, metal-framed windows and made a few extra bucks doing it. How's that for being house-smart?
Contact us for more information about recycling metal window frames.
Get Paid to Recycle With Calbag
Source: What You Need to Know About Buying Energy-Efficient Windows. Karen Beuerlein. http://www.houselogic.com/home-advice/windows-doors/replace-old-windows-with-energy-efficient-models/