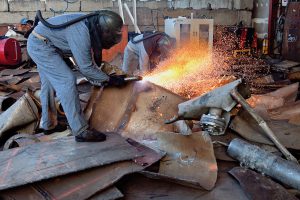 Calbag Metals metal recycling headquarters in Portland, Oregon makes some simple, time saving and traffic-busting changes that helps customers and employees more easily recycle scrap metal.
So, what's the story? Headquartered within a block of the 405 Northwest Industrial exit, with a stone's throw to Hwy 26, Hwy 84, and Hwy 30, the location has served as convenient drop-off for contractors and the general public, as well as a hub for the fleet of trucks the company deploys to service manufacturers and fabricators throughout the metropolitan region.
Portland Ranks High for Worst Commute in America
Just as commuters have experienced over the last 20 years, Calbag has encountered the challenges that come with a growing region. Just this year (2018) Portlanders learned that they enjoy the 12th most congested commute in America. That designation is the result of the 2017, annual Global Traffic Scorecard report from Kirkland-based INRIX.
This means that Portland drivers spent an average of 11% of their drive time in 2017 stuck in congestion, ranking 12th in the United States. Seattle finished 9th and unsurprisingly Los Angeles rated number one.  Read KGW news story.
Portland metropolitan area growth has been beyond anything most could have imagined, with both opportunities and consequences perhaps not adequately anticipated. But in what Calbag Metals internally is calling a "Stephen Hawking moment" the company has found a way to reduce the impact, returning time to their employees while gaining back the productive hours necessary to recycle.
A Stephen Hawking Moment to Bend Time
Calbag Metals average tenure for employment is north of 24 years, but even a company with a stable workforce, good benefits and a great education program can't avoid the life altering impacts of ever increasing employee commute times. Indeed, the pressures of getting one's self or a child to an afternoon appointment put some folks in the difficult position of choosing to miss work for the day due to travel times.
Production supervisor Randy Jefferson said "we need to bend time." Randy knew firsthand the challenges his production team faced in getting to and from work each day. He came to know in detail the commute times for folks that ranged in geography from Canby to Kelso, West Linn to Stafford. The tardiness in arriving, and the race to leave at shift end were impacting productive hours, and the wear and tear showing on the faces of too many. So before proposing an idea to other managers, he polled the entire plant work force about the idea of a shift change, 6am to 2:30pm instead of the then current 8am to 4:30pm. Unanimous! 100% agreement the team were in favor. Armed with this information, the company said why not; trucking was already road bound before 7am and traders, logistics staff, and others had been coming in before 8am for years. Informing the public about new drop-off times was all that remained.
Getting Results
Now Calbag Metals in Portland opens at 6am for recycling and wraps up at 2:30pm. Six months since implementing, Calbag has experienced just 2 incidents of tardiness, both about 6 minutes, and only one call-in absence due to the complications of an employee appointment. The average commute time has been halved, in most cases saving employees almost 25 minutes per day each way. All great results, but the truly remarkable change has been in the reconnecting of employees. Instead of rushing out after work, folks now take time to chat and catch up. And most surprising, the company's gym usage has increased almost 300% as many employees use the well-equipped facility before heading home.
Calbag Metals has found a way to reduce the impact of Portland gridlock, return time to its employees and gain back the productive hours necessary to recycle. Stephen Hawking would be proud.