Industrial Scrap Metal Recycling
Calbag Metals provides recycling solutions for a variety of industries and manufacturers. From the aerospace and automotive industries, to metal fabricators and high-tech industries our full-service, fully-customizable recycling solutions are guaranteed to make your recycling program more efficient and profitable.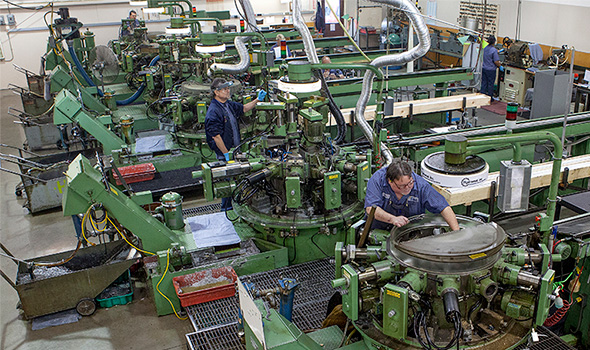 FAQS
---
From Industrial Sellers
---
Setting up an account with us is as easy. Our highly-trained Sales Representatives are always available to answer your questions over-the-phone, via email, or in person. We are also happy to show you how we can improve your scrap metal recycling program and get the most for your scrap. Contact us either online or give us a call.
We are a global scrap supplier, which means we sell directly to the mills and others who are using our scrap metal products to make new products. We eliminate the middle man so we can offer the most current and competitive pricing at all times.
We can pick up your scrap or you can bring it to us. Our dock is open to purchase scrap Monday through Friday from 6:00am to 2:30pm in Portland and 8:00am to 4:30pm in at our Tacoma location. If you have a large load of scrap metal and need it picked-up just give us a call, send us an email, or use our Schedule Box Pickup button on this website. Our Sales Representatives are available to discuss the best option for you.
Washington and Oregon laws strictly enforce a delayed payment system for all non-ferrous transactions, but if you are one of the following, we can issue immediate payment, either via check or cash:
---
A licensed business,
A licensed business owner, or
Are an employee of a licensed business with written permission from the company/owner to sell scrap metal on their behalf,
---
In accordance with both Oregon and Washington law, ferrous metal transactions are available for immediate payment.
Yes. No piece of equipment is too large. We are capable of handling the largest recycling projects, from shop floor drill presses to 40,000 pound, brass ship propellers. Call or email a Sales Representative today to discuss what you need.